Dawn Crystal has the ability to Access and Transmit powerful 'SOURCE" frequencies that create permanent Shifts at the level of the DNA.
Do you feel
Stiff & Achy in
Your Body???
Are you beginning "Not" to do the things you "Love" that are limiting you to enjoy a Happy, Healthy Active life you truly desire???
Do you have Painful Inflammation, Swelling, Acidity & Rigidness???
Have you tried Everything out in the Market and Nothing has worked for You???
Dawn Crystal Founder of Sound Energy Pain Relief Therapy, has worked with clients in over 150 countries and have reported complete healing from Chronic pain, Chronic fatigue, Depression, Anxiety, Binge eating, Burnout, Trauma and more, even when nothing else worked!
​
Discover a Leading cutting edge method, backed by Science, that gets 100 times the healing results than other methods including Acupuncture!
Experience High Frequency "Source" Energy to heal your body from the "Inside-Out" Fast!!!
In this program you will experience healing of all patterns of degeneration related to joints and Arthritis. Clearing programs, DNA, Infections that keep the joints inflamed.
You will experience High Frequency Activations to make permanent change and feel "Great" again!!!
Each module will clear, malfunction & Strengthen your Complete Foundation.
You will experience removal of "Pain" from those areas along with decreased inflammation & Swelling in your Joints.
Each short module listen daily to the Activations.
It's as simple as putting on your Head-phones & Feel Positive changes start happening Right-Away!!!
Experience Sound healing through Dawn Crystal's "Voice" of High Frequency "Source" energy...
Dawn Crystal works with Celebrity Jack Canfield - "New Your Times Best Selling Author"(Chicken Soup for the Soul Series). Dawn gets him out of his long-term Neck Pain in only "Minutes"!!!
Here's What Others Have Already Experienced With Dawn.
"Dawn's keen Body Scan & Rapid Pain Healing got rid of my Years of Suffering in a few Minutes! " ~ Alice
"Dawn is the Real Deal!!!! She is a Gifted Healer with Many Healing Abilities to Heal your Aches & Pains Fast!!!" ~ Kathy
"OMG!!!! My 30 Minutes session with Dawn was so Life Changing! She sees your Blocks and Her Voice Gets you out of Pain in a matter of Minutes!!! Thank you much! Bless You!!!" ~ Nancy
"Dawn's Readings are so Accurate and she knows what needs to be done to get you the best Results for Resolving your Pain issues In only a few Minutes!" ~ Sheila B.
"What a Gift to the World to find Dawn as she has Cleared & Healed my Years of Suffering. Give her a try you will be Amazed!!! Thanks!" ~ Joseph G.
"I purchased Dawn's Joint Program and listened to the first few Mp3's, I can't believe that my Pain just melted away! I have a session scehduled soon by phone & I can't wait to see the Results! She is a Miracle Worker! Love" ~ Liz
"Wow, Wow, Wow! I finally found a Natural Alternative to Getting my Body out of Pain that Really does Work!!! Dawn's healing abilities are so Amazing!!! Bless You!" ~ Anita P.
"I Highly recommend Dawn for her healing Work! She's so Fast & Accurate! She cured me of my Life-Time of Suffering in only a 30 Minute Session! Thank you, Love always" ~ Bethany 😊
"Discover Rapid Fire Pain Relief in only Minutes.Through Dawn Crystal's Voice!!!!"
"Dawn is a Pioneer on the Fore-Front of Future Healing on this Planet Earth! She is definitely a Blessing from the Creator!! Love you so much for your healing work! Your an Angel! Love" ~ Patti
See what Everyone is Raving About!
"I recently purchased Dawn's Anti-Aging and Get Out of Pain Forever program. I listened to the mp3 for back pain, and immediately my back felt better. I had a sore throat the other night, and listened to her throat to lungs mp3, and my the soreness went away. I have to repeat these and, I think, do the rest of the program to get to a "final clear" - where pain does not return. One mp3 at a time though! Thanks Dawn!"
~ Bonnie
"Dawn Crystal is a pure channel, meaning she is egoless in her work. She fully allows Source to move through her to client unobstructed and unaltered by any human ego mind distortions. I found myself fully able to trust and therefore open fully to Source Energies. The next morning I was able to walk down the stairs with absolutely no pain in hips or knees. Not only is my body healing, but the healing ripples from body up through my human mind, clearing out distorted thoughts, beliefs, mental constructs that caused the physical 'dis-ease' initially. I loved working with Dawn. She is so True and Pure in her work, her intentions and heart. I am so grateful for her assisting me in finding the 'light' I could not identify alone."
~ Kathy
"Hi Dawn, My testimonial in support of your Get Out Of Pain Forever Program. I listened to your Mp3 for Ankles, Feet & Knees for knee pain which just flared up, don't usually get that. I listened once a day for just over a week. By the 2nd day it eased somewhat and continued to ease. By day 6 it was hardly noticeable...it's almost 10 days now and the pain is gone. I didn't take any medication or use balms or anything else, just listened to your Mp3 once a day...I've moved on to the other Mp3s in this program and am also on the Anti-Aging..thanks for sharing your divine healing gift of sound.
You are blessed"
~ Wendy
"My first private session with Dawn Crystal had a profound impact on how I feel. I'd had other energy clearing before her, but none got to such a deep level. She restored the energy that had been drained away from me and I could sense and feel my own energy for the first time. Since then I've been using the Whole Body clearing meditations every morning. When I had the flu I used the "clearing the throat and lungs" module and I believe this really kept my symptoms manageable. It's a beautiful, easy, and relaxing way to start my day!
Thank you!"
~ JM, Maryland
LIFE DOESN'T HAVE TO BE DIFFICULT...
CHANGE YOUR LIFE TODAY!!!
From Heartache to Joy Special Offer $167

Refund Policy: No refund after the remote healing takes place.
Clearing Programs & Interferences For Healthy Joints!
DNA Clearing
Clear Inherited Ancestral Energy
Clear Past Lives
Strengthening Malfunction of the Joints
Heal Hands - Including Fingers & Wrists
Clear Pain & Discomfort
Clear Inflammation & Swelling
Rapid Regeneration of Mobility
Clear Disease
Clear Scar Tissue
Clear Arthritis
Heal injuries
Heal After surgeries
Clear Pain & Discomfort
Clear Inflammation & Swelling
Rapid Regeneration of Mobility
Clear Disease
Clear Scar Tissue
Clear Arthritis
Heal injuries
Heal After surgeries
Clear Pain & Discomfort
Clear Inflammation & Swelling
Rapid Regeneration of Mobility
Clear Disease
Clear Scar Tissue
Clear Arthritis
Clear TMJ
Heal injuries
Heal After surgeries
Clear Pain & Discomfort
Clear Inflammation & Swelling
Rapid Regeneration of Mobility
Clear Disease
Clear Scar Tissue
Clear Arthritis
Heal injuries
Heal After surgeries
Clear Pain & Discomfort
Clear Inflammation & Swelling
Rapid Regeneration of Mobility
Clear Disease
Clear Scar Tissue
Clear Arthritis
Heal injuries
Heal After surgeries
Over the next 30 days, you receive powerful quantum energy healing directly from the highest level of Divine energy from Source!
Dawn will specifically customize this quantum energy to rejuvenate your DNA cells to heal your joints and release pain for ANYONE looking to live a Longer Healthier Life!

This is tailored to your unique needs so that your healing will be maximized.
Dawn will target and heal a specific body part, energy layer, disease, illness, or problem area that is causing your cells to deteriorate and age the wrong way!
The healing quantum energy is sent 24/7...
That means your cells are being rejuvenated NON-STOP, even while you're sleeping!
You'll wake up feeling invigorated, and pain free.
Dawn works from the inside out by upgrading...
Your DNA...
The cells of your body...
Your complete genetic codes!
Say goodbye to stiff and painful joints.
Save money & live a better life with a healthier and happier version of you, no matter your age!
With this AMAZING remote healing, you'll not only have less aches and painsl...
You'll feel more confident as you fall in love with yourself all over again.
With this natural pain reducing solution, you'll feel more energized and look forward to starting each day!
Best of all, you don't have to do a thing...
...just sit back and receive this potent quantum energy healing.
Dawn uses remote healing techniques so you don't have to lift a finger.
The more open you are, the greater the results – and you can start seeing it in MINUTES!
From Heartache to Joy Special Offer $167

Refund Policy: No refund after the remote healing takes place.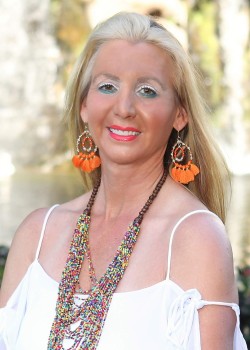 Dawn Crystal, A Internationally Recognized Voice Sound Energy Healer, Medical Intuitive, respected Intuitive Life Coach, Soul Reader, Medium, Pain Release Expert and Best-selling Author of "4'" Books (Pain Free Made Crystal Clear! , Fear Free Made Crystal Clear , Happiness Made Crystal Clear and Fatique Made Crystal Clear!), is known as a LEADING TRANSFORMATIONAL EXPERT incorporating ancient wisdom for modern day success.
Dawn is passionate about helping people clear emotional and physical blockages, so they can manifest from their higher selves, step into their full potential, and lead their lives and businesses in ways that align effectively with their souls' purpose.
Dawn helps her clients to release themselves quickly from pain, emotional and physical, and she has miracoulously healed many life threatening health conditions such as Cancers and unknown Illnesses that no medical treatment could Cure. She is an active mentor for entrepreneurs , CEO's and Celebrities helping everyone! Dawn is the "Go-To" person to get out of pain fast in Minutes! Dawn participates regularly on global Teleseminars, radio shows and podcasts .
Dawn was recently interviewed by the Today Show, Dr. Oz, Rachel Ray, The View,etc. Since early "2017" Dawn has done a "Live" Bi-weekly program partnered at Learning Strategies Corporation called "Sound Healing/Silent Clearings".
Dawn's unique sound healing CD has been purchased by clients around the globe, and she is available on both phone and Skype, as well as teleseminars.
Dawn lives on Maui with her adorable animal companions.
From Heartache to Joy Special Offer $167

Refund Policy: No refund after the remote healing takes place.
DISCLAIMER: The information on this site is not intended or implied to be a substitute for professional medical advice, diagnosis or treatment. All content, including text, graphics, images and information, contained on or available through this website is for general information purposes only. Please see a medical professional if you need help with depression, illness, or have any concerns whatsoever.
WE DO NOT OFFER MEDICAL ADVICE, COURSE OF TREATMENT, DIAGNOSIS OR ANY OTHER OPINION on your conditions or treatment options. SERVICES OR PRODUCTS THAT YOU OBTAIN THROUGH THIS WEBSITE are for information purposes only and not offered as medical or psychological advice, guidance or treatment.
CONSUMER NOTICE: You should assume that From Heartache To Joy has an affiliate relationship and/or another material connection to the providers of goods and services mentioned on this page and may be compensated when you purchase from a provider. You should always perform due diligence before buying goods or services from anyone via the Internet or offline.
REFUND POLICY: Please know that in order to honor the Law Of Energy Exchange, all exchanges need to be fair energetically. We love and honor all of our valued listeners and speakers. We are happy to offer a hassle free, 30 day Money Back Guarantee to our customers to help them decide if a certain product works for them or not. However, in order to honor our speakers and their hard work we can only offer refund on one package for every customer per 90 days. Multiple refunds by same customer within 90 days will not be accepted. If speaker's offer involves personal sessions, then guarantee will be voided if the session has been availed. Additionally all refund requests should be sent within the 30 day guarantee period. We thank you in advance for respecting the energy exchange.
Copyright © 2022 - Eram Enterprises Inc - All Rights Reserved