"Inner knowing of being fine"
"Dear Sanjay, I have been feeling this protection for several days in relation to the coronavirus. It is just, as you say, and inner knowing that I will be fine. I am so glad to be on Lifetron energy and I'm totally looking forward to further growth and blessing"
~ Patricia
"Lifetron is the reason I am calm and at peace"
"I'm thankful to have Lifetron in my life. So many people I come in contact with are experiencing anxiety, fear and stress related to the virus and the rapid changes occurring in the world. I feel safe and I have a deep knowing that I will be safe no matter what is happening in the world. Lifetron is the reason I am calm and at peace. Thank you Sanjay! I'm grateful for your work."
~ Candy M.
"I have zero fear due to Covid 19"
"I have been using lifetron now for a couple of months and I must confess I have zero fear due to Covid 19. I know I'm safe and we will all recover and we will be wiser and more compassionate because of this experience. Blessing"
~ Linda F.
"I can feel the anxiety and worry from all that is going on in the world, starting to dissipate after I signed up for the lifetron protection program"
~ SL
"I love the feeling and knowing of safety for me and my family that I have been experiencing under lifetron"
~ Julia
Many years ago when Sanjay developed the Lifetron Healing system, his greatest desire was for a system that provides PROTECTION. He somewhere knew a time will come when one of the greatest needs of a living being would be protection.
We are now living in those times.
The whole world is going through major re-adjustment and re-alignment.
Lifetron is so effective in meeting this need.
Because it works at a Knowing level, at a deep subconscious Belief level, which is deeper than the mind, the body and even the energy.
When you are on Lifetron energy and if you are able to go to the knowing level you will feel a Knowing that "I will be fine".
No matter what is going on in your mind, body and the external world this deeper knowing will undeniably be there when you are on Lifetron healing.
This is where the real protection comes from. If your knowing says you will be fine, you will be fine. If your knowing says you are in trouble, you will be trouble.
Lifetron Healing is the only healing system that changes you at a Knowing level.
This knowing then slowly starts to come into upper levels of consciousness over time: body, mind and overall life.
Also guess why Sanjay has over 460+ Google Verified 5-star reviews...
Because Lifetron healing really works the way it promises it will.
To help as many people as possible during these tough times, Sanjay has created a special pricing and program customized with the intention of PROTECTION.
Viruses
Anxiety and Worry
EMF
Health Issues
Financial Protection
Negative Relationships and People
Physical Harm
Please note that protection does NOT mean no challenges.
Challenges are sometimes a necessary part of realignment and re-adjustment. They are meant to help us move from insane ways of living towards greater sanity.
What protection here means, even if you have challenges it will mercifully minimize the impact of karmic patterns and gracefully help you across the turbulent waters towards greater safety.
It protects you from drowning in the turbulent waters of realignment and re-adjustment.
See For Yourself What Others Have Experienced Using Lifetron Healing Transmissions
Get the Protection You Need During this Current World Crisis
"Feeling 100% Better: Healing from Anxiety and Depression"
"I was on lifetron for a month and half for depression and anxiety and I feel 100 percent better I can sleep at night without nightmares and can go out in public without so much anxiety.
My anxiety and depression was at a level 10 before and now it is 0. I like to thank sanjay for this program."
~ Roxy
"WHAT TREMENDOUS JOY! Within 4 Days on Lifetron"
"I am over the moon with this energy. I am not oppressed by the dark cloud of thoughts and emotions that plagued me before. Light and space are around me. I totally enjoy meditating and being quiet now. In fact, I enjoy everything now. Everything is alive to me now.
I used to be blocked out of life; now I am a legitimate part of life. I have energy now. I have never had energy before unless I was in a manic state. Life was a drudge, like going through mud. I could only get myself to do what would keep me alive, faking it until I would hopefully someday make it.
Now I can feel deeply and singly an emotion when it comes up; it's not cluttered and lost in the dark cloud. It's isolated so I can be with it until it's done, letting it unwind and learning what it has to tell me. WHAT TREMENDOUS JOY!!!. Now I am gently focused on how best to use this wonderful energy to develop my talents and gifts"
~ Leela
"Lifetron Cured Son in-Law's Depression! Amazing Turnaround In 2 Weeks!"
"Very Blessed! My son-in-law was in a bout of extreme depression, due to a history of not being able to meet his parents' expectations and from living with mistakes he made in his teen years. This turmoil reached a severe state and it was affecting his studies, his job, his relationship and his health, it was literally eating away at him, mentally and physically, he was disconnected and his life force very low.
I received Sanjay's email for his treatments and in less than 2 weeks he made an amazing turnaround, this young man is now in much better spirits, determined, and at peace with a renewed sense of energy to take on his future.
I believe Sanjay was divinely placed on his path, to assist him. What was a dire situation a few weeks ago, is now a new beginning. Thank you. Infinite blessings."
~ Natalie
"Lifetron Energy Healing Changed My Daughter's Life Miraculously!"
"I cannot express enough gratitude to Sanjay and Lifetron Energy Healing System. Every request was fulfilled in ways I could not have imagined and for my daughter who was unaware of the requests I made for her life.
In 30 days the list, wish list is truly how it feels, was manifested and started happening in her life and my own life. I am truly blessed to have found Lifetron and used this beautiful gift for our lives!"
~ Lynn
From Heartache to Joy
Special Offer

$77
Lifetron Protection for 1 Month for 1 Person
From Heartache to Joy
Special Offer

$108
Lifetron Protection for 1 Month for 3 Persons
From Heartache to Joy
Special Offer

$147
Lifetron Protection for 1 Month for 5 Persons
From Heartache to Joy
Special Offer

$197
Lifetron Protection for 1 Month for 7 Persons
We all need protection in these turbulent times.
Sanjay is here to help you cross the turbulent waters
Keep up the hope and patience.
All will be well.
This program's primary intention is for protection. You cannot put any other intentions in this program.
This program is to help you protect what you already have and bring you a sense of safety.
It is not intended to "improve" life. Of course due to the positive nature of the energy you may experience some improvements, but that is not the focus of the energy in this program.
If you know of friends or family members who need protection at this time, please pass this along to them.
Are You Ready to Release Your Worry?
"In Just One Month My Anxiety Has Gone Down To Zero!!"
"I am 36 years old and have suffered from severe anxiety for most of my adult life. My anxiety was extremely high. I have tried different things but to no avail. I heard of Sanjay's Lifetron healing program and decided to try it.
In just one month, I am very happy to report that my anxiety has gone down to Zero!! I am able to handle stress better even as I look for another job as a teacher I am not anxious but researching the possibilities. Looking at opportunities for a new start.
Also, some of the other physical health issues have gotten better too. This has significantly improved the quality of my life. Thank you Sanjay."
~ Dina
"Amazingly Accurate"
"Within 30 minutes Sanjay found my core wound. A repeated pattern that got setup at a very young age. He not only found the issue, but also healed this issue. The results of the healing kept unfolding over several weeks for me"
~ Jackie
"My Son Got Over Anxiety and Depression With Lifetron!"
"I Gifted my teenage son lifetron. He started on an anxiety of 10 and at the end of the 30 days levelled to 1 or 2. He is so much happier and content. We highly recommend sanjay and lifetron"
~ Carol
"My Flashlight in the Dark; Helped Break the Loop of Destructive Patterns"
"I highly recommend this especially if you are feeling stuck and unpleasant events in life repeat outside of your control. Sanjay creates a safe space to take a look at the source of the pattern and like a flashlight in a dark room my experience has been that I can now see more clearly a new way to progress with an internal compass that supports me in staying aligned with my greatest intentions and happiness."
~ Pamela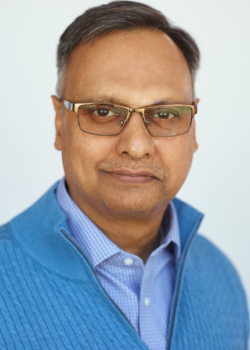 As a Senior Executive at Motorola, Sanjay Nimar spent 16 years of his life designing sophisticated wireless equipment to power 3G and 4G cell phones. His work was stressful and highly taxing. So much so, that after 16 year it became too much and he spiralled into a depression. For years the crippling anxiety consumed his entire life…!
He tried 100s of other healing modalities. None of them were able to pull him out of his extreme state of depression. That's when he decided to develop this healing system.
He combined his vast engineering experience with deep knowledge of metaphysics to create an unprecedented Lifetron device that harnesses the Lifetron particles from nature and transmits them to you 24 / 7 - anywhere on the planet!
To heal effectively we need to heal both the conscious and the subconscious mind. We also need support from Grace Energy to make our healing journey easier, productive and successful. The 24/7 Lifetron Energy healing is the energy of Grace that heals your energy field without any conscious work on your part.
The 24/7 nature of the energy transmissions provide 24 hours / 7 days of positive state of energy, helping you up out of a negative state without any effort.
Sanjay Nimar has more than 450 "Google Verified" 5-star reviews for his work - an unprecedented number of reviews in the field of healing work.
"After 30 years of Chronic Migraine, Headaches Gone after using Lifetron!"
"I used to have migraines and severe headaches since the age of 10 or 11. I am 43 now. I did a Lifetron Treatment with Sanjay for the migraines. I am very happy to report that the migraines and headaches are completely gone. I have not had a migraine in the last two months."
~ Patricia
"Lifetron Healed My Daughter's Extreme Anxiety and Social Disorder"
"I am very satisfied with Lifetron! The change in my 30 year old daughter, River, is quite remarkable! She is on disability due to extreme anxiety and social disorder so she resides with me.
She is so much calmer and happier than she has ever been. She had also been diagnosed with clinical depression and would sleep sometimes for 15-18 hours at a time!
She has been doing a lot of energy work to help release a lot of issues but I have noticed a remarkable difference since we have been on Lifetron.
Been having lot of weird pains—they will come up in different parts of the body, its the release of emotions that I believe are causing the pain, and the next day it's something different! It's been an odd roller coaster of pains, aches, etc since we started Lifetron, but it feels like it is starting to even itself out.
I, also, am feeling much calmer, happier than I have been, and I am grateful that Lifetron is available to us!! Thanks so much and I know I will continue to pay for this for quite awhile as I can see and feel visible differences. Just seeing my daughter happier is a huge bonus for me!!!"
~ Cynthia Morningway
"Lifetron helped Heal Serious Health Issues"
"My husband and I went on the Lifetron Healing for about a year and we are grateful for the support and healing that it provided us, especially my husband.
His anger and resentment were causing serious health issues such as Cancer and Kidney Stones and Lifetron helped to reduce his emotions and heal his body. He has a clean bill of health now."
~ Dorothy
"Confidence Improved with Lifetron"
"Have been on this program for almost a year now. My life has improved much, and have reached a point of calm with an inner knowing and confidence that I have not felt for a very long time. Thank you for this work that you share and I am truly grateful for the way it has helped to improve my life."
~ Gloria K.
From Heartache to Joy
Special Offer

$77
Lifetron Protection for 1 Month for 1 Person
From Heartache to Joy
Special Offer

$108
Lifetron Protection for 1 Month for 3 Persons
From Heartache to Joy
Special Offer

$147
Lifetron Protection for 1 Month for 5 Persons
From Heartache to Joy
Special Offer

$197
Lifetron Protection for 1 Month for 7 Persons
DISCLAIMER: The information on this site is not intended or implied to be a substitute for professional medical advice, diagnosis or treatment. All content, including text, graphics, images and information, contained on or available through this website is for general information purposes only. Please see a medical professional if you need help with depression, illness, or have any concerns whatsoever.
WE DO NOT OFFER MEDICAL ADVICE, COURSE OF TREATMENT, DIAGNOSIS OR ANY OTHER OPINION on your conditions or treatment options. SERVICES OR PRODUCTS THAT YOU OBTAIN THROUGH THIS WEBSITE are for information purposes only and not offered as medical or psychological advice, guidance or treatment.
CONSUMER NOTICE: You should assume that From Heartache To Joy has an affiliate relationship and/or another material connection to the providers of goods and services mentioned on this page and may be compensated when you purchase from a provider. You should always perform due diligence before buying goods or services from anyone via the Internet or offline.
REFUND POLICY: Please know that in order to honor the Law Of Energy Exchange, all exchanges need to be fair energetically. We love and honor all of our valued listeners and speakers. We are happy to offer a hassle free, 30 day Money Back Guarantee to our customers to help them decide if a certain product works for them or not. However, in order to honor our speakers and their hard work we can only offer refund on one package for every customer per 90 days. Multiple refunds by same customer within 90 days will not be accepted. If speaker's offer involves personal sessions, then guarantee will be voided if the session has been availed. Additionally all refund requests should be sent within the 30 day guarantee period. We thank you in advance for respecting the energy exchange.
Copyright © 2020 - FHTJ - All Rights Reserved