Discover the Essence of the Rainbow in a Bottle!
Nourish and harmonize your Chakras to bring in pure colors of the rainbow for inner and outer radiance! Feel into your place of belonging and shine the essence of who you truly are!
Rainbow Chakra Balancing Spray is Used to:
Cleanse and nourish your energy with the pure essence of the Rainbow! Clear stuck energy channels so your body can heal faster!
Shine your inner and outer radiance! Look and feel younger! Shine your true colors from the inside out! The fountain of youth!
Naturally youthifying, the higher the vibration the younger you will be!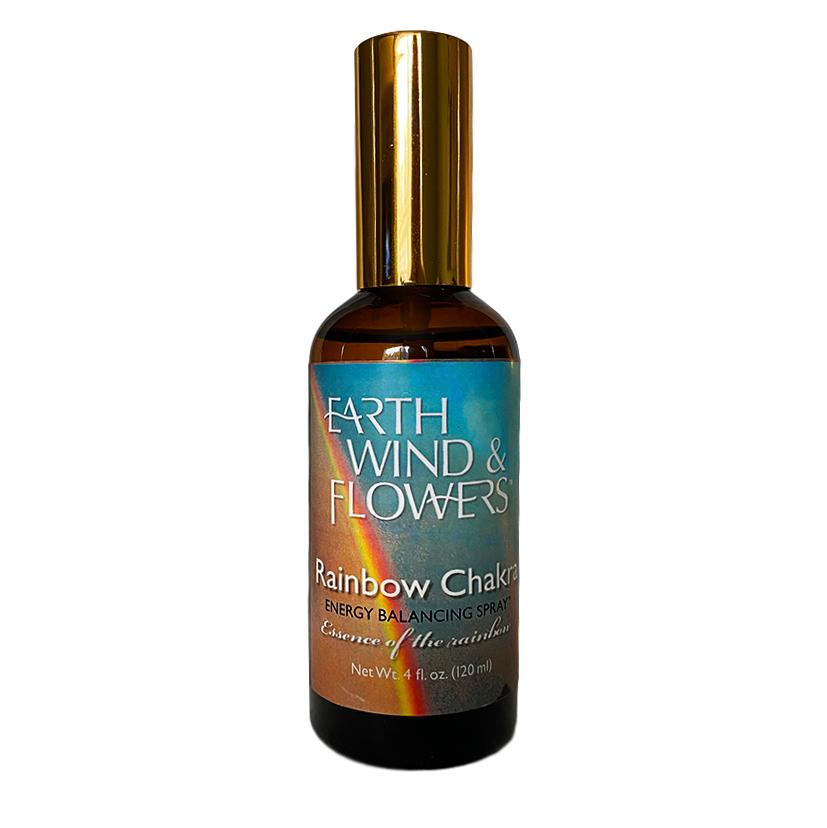 This is a one of a kind product. You won't find ANYTHING else like it on the market! Take advantage of this EXCLUSIVE pricing for our FHTJ audience only!
Deborah uses this spray all the time and some people even tell her that she's discovered the fountain of youth with this product!
Use as a body mist to cleanse your aura. Quickly uplift your mood from low energy states to a higher, harmonious state of being!
Great for space clearing in home, office, dorm, and travel. Use as a special blessing for weddings, christenings, anniversaries and new beginnings.
These remedies are a magical and powerful gift from nature.
Spray generously over your head and allow mist to settle. Use daily or whenever you want to feel super clean, uplifted and refreshed.
Contents: Infusion of the Double Rainbow, created by Deborah Werner.
"I felt a huge shift when you misted someone regarding narcissist and protection" ~ Lila
"When you remotely misted me with Loving Protection, it felt like a warm blanket surrounded me!"
~ Eram Saeed
"Thank you, since signing up for your package, I have just been blessed with the most amazing business collaboration in my life!" ~ Mary Jo
"My daughter actually went to her first day of school! Thank you Deborah for helping her with her anxiety." ~ Dana M
"New client signed up today! Woohoo" ~ Angel A.
"I could see golden sparkles where you were misting. I feel at peace, thank you so much." ~ Cress S
"Thank you, I'm continually surprised and grateful for the growth in my Soulful Life Coaching and healing art. Now, everytime I share any of my art, someone wants to buy it!" ~ Susheel C

"Win of the week. My credit score increased 5 more points! Even though I could not pay off student loan debt, my score is continuously increasing!" ~ Clara

"I have stumbled upon and started a side hustle that I am very excited about, and it is using the skills that I already have." ~ Aina T
"I remotely misted a distant friend who was in her end stages of life. Her throat and lungs seem to feel better after misting her remotely with Rainbow and others. SO much gratitude as now she can pass when she is ready in peace" ~ Dia C
"Feeling uplifted and a shift in my energy field. Expansion all around me and warmth in my solar plexus and pleasant coolness on my face" ~ Angel C
Get Ready For Astounding Results To Your Energy Field, Just Like These Incredible Stories:
"Deborah's sprays are absolutely amazing! I highly recommend them to anyone desiring a balanced and clear space. She used her Rainbow Chakra spray on my husband during a session and his energy and mood changed instantly. I was speechless!!!"
~ Chameice Daniel, Quantum Alchemist
"I have found this essence to be a wonderful uncloaking device. When a patient is blocked, guarded or switched, a spray over the patient will uncover the priorities that need to be worked on. A great non-invasive way to create clarity."
~ Dr. Pieter Van Huehl, Integrated Holistic Healthcare
"The Rainbow Chakra Spray was made in the direct presence of the rainbow. As light comes through droplets of water suspended in air we can see how white light, the union of all colors, is individuated into the array of color. Our soul must know we are in union with all and that we are an individual at the same time. The rainbow restores us to this state of being. I use the spray often."
~ Barbara Fleming, MA, Founder, The Fleming Center
"As the embodiment of all color, created through the refraction of light in moisture suspended in the sky, the rainbow speaks to us of miracle, possibility, creativity, and life. The experience of Deborah Werner's Rainbow Chakra Balancing Spray supports the marriage of the colors of the rainbow with the correlative chakras in the individual, allowing you to focus on the voice of the rainbow as expressed in your unique energy field. Drawing balance into your energy field opens the creative energy channels granting access to the field of all possibilities that are present in you."
~ Dawn Nahf, Executive Director Non-Profit Waukegan, IL​​​​​​​
Regular Price $127 + Shipping

From Heartache to Joy Special Offer (shipping included) $117
(shipping to US, Canada and Europe only)

FHTJ REFUND POLICY
On Bottles: Non-refundable after order is shipped.
Here Are Some Miraculous Results From Others Who Have Received Deborah's Loving Protection Misting
"With Loving Protection remote misting, my aura grew more than 2 feet!"
"I was amazed at seeing my aura, as measured by a simple hanger! And even more exciting was when Deborah misted me remotely with Loving Protection. It felt like a tingle and electric energy running through me, and my aura grew more than 2 feet! It was truly remarkable!"
~ Elyse Fisher
"Within minutes after spraying my daughter she was brighter and calmer!"
"I would love to share my experience with the essence sprays and misting. A couple of months ago I was beyond desperate to help my 16 year old daughter who was suicidal. I contacted Deborah and she kindly began remote misting on my daughter. Within minutes there was a change in her whole energy, she was brighter and calmer.
It has been a rather difficult journey but one that would have been impossible without the essence sprays. Each time Deborah did a misting I could tell just by looking at my girl and the mistings gave me such strength and courage to face it all in a calm and supportive way. There are no words to express my gratitude. One thing is for sure, the essence sprays work in the most remarkable and magical way.
Thank you Deborah for saving my daughter."
~ JR
"Any dream I needed to transpire did occur with Deborah's remote misting and sprays!"
"The support I received with Deborah was nothing short of miraculous!
Offer on our home.
Positive movement in my business.
Recovery of lost heirlooms.
General emotional support.
It really felt like any dream or wish I needed to transpire did in fact occur, and not only occur almost immediately, but also with a calmness and ease I am not used to at all.
Most importantly I didn't feel so alone on this journey called life, her loving nature, her upbeat compassionate approach was exactly what I needed in some of my darkest hours, add to this the FB group you get to be a part of was so comforting, everyone is so supportive of one another, I experienced nothing but kindness and generosity from people I don't even know!
I love the mists I bought with my package, and highly recommend getting as many as you can justify, the daily posts and mists felt like a miracle transpiring right before my eyes. I've never experienced anything like it!"
~ Ravneet Vohra
"I immediately felt the remote misting!"
"Thank you for the misting during the call, immediately when you started misting the first caller with Rainbow, Open Doors and Miracle, a cool fresh breeze surrounded me and I had chills all the time which was great because the weather temperature was hot!"
~ RC
"Deborah's remote misting helped my son obtain his dream job!"
"Thank you for misting your beautiful energetic sprays in assisting my son in obtaining his dream job. You're amazing, powerful and so very generous. Plus an intuitive genius with flowers and their energies."
~ Lisa G
"My daughter manifested $100 gift and I received a free reading and healing!"
"I have more beautiful blessings to share in our garden. My teen daughter has been playing with manifesting and yesterday she received a $100.00 gift from a family friend, totally unexpected! I also received a free reading and healing for an ancient fracture, separation and heartbreak that was too painful to be addressed before now. Wow - I was bathed in so much tender love and compassion. Mother Mary ( spray) was blessing me and my family on her birthday. I am full of gratitude"
~ Dana M
Deborah Has Helped Others JUST LIKE YOU Heal From Insomnia, Anxiety, Depression, Addiction, And Relationships & Money Struggles
Join Her Clients Who Have Received QUICK & LONG-LASTING Results That Have Changed Their Lives!
"Received a $750 coaching program for FREE!"
"I've been accepted into a coaching and mentorship! An exception was made for me!! I've received it for FREE from an amazing CEO who traditionally charges $750.00!! Phenomenal results, thank you!!"
~ Alison W
"Within 24 hours of spraying, I can walk with little pain and no swelling!"
"Yesterday whie I was walking I twisted my left ankle very badly, so that I could not walk for a few minutes. When I arrived home, I took off shoes and socks and my ankle was swollen with lots of pain. I sprayed Miracle more than ten times on the painful part and just rested.
Half of the swelling was gone in less than an hour and also pain.
During the night, I applied the Miracle spray a few times. Now swelling is almost gone, pain is much less than yesterday and I only have difficulty when I am walking.
The next day I misted Miracle spray more than five times. I can walk with little pain and no swelling at all. Thank you so much for your magicals sprays dear Deborah!"
~ Clara
"After the misting, a second buyer for our home stepped up and out bid the first buyer!"
"After the misting, a second buyer for our home stepped up and out bid the first buyer. This is a huge result and win for us!...One hour after I asked for help today a flower fluttered elegantly from a tree and landed on the ground right in front of me!"
~ Ravneet V

"Within a few minutes after misting my son, his professor texted him and said she was giving him the A!"
"My son was .3 points from getting an A in a college course. I misted him and his professor remotely with Rainbow, Open Doors, Miracle, Loving Protection and Respect for each of them. Within a few minutes the teacher texted him and said she was giving him the A!"
~ Dia C
"Now instead of caffeine for an energy boost, I mist myself with Deborah's sprays!"
"Instead of relying on espresso/caffeine I sprayed myself with Loving Protection, then Rainbow followed by Open Doors and Miracle to raise my vibe so I can bring in more miracles. My group healing session was so powerful...the LL transmission that came through made everyone cry. Do yourself a favor and order the mists!"
~ Angel A
"In the last three weeks I've had three new bookings after months without any!"
"It's really amazing. I've had another client booking to see me after no new ones from the website for many, many months. In the last three weeks I've had three new bookings, 2 of which prepaid for 6 after their first visit!"
~ Susheel

"I am setting healthy boundaries!"
"I did what you said about having healthy boundaries. Wow!! I called one of my friends and said no to help him because I did not want to. Then I sent an email to another friend and asked for the money she owes me. And, I called another friend and explained why I did not like what he had said and done to me. Feels awesome! And thank you for your love, compassion, support and guidance to all of us. Much love let our light shine now and forever"
~ Clara
"I have found the flower essence by Deborah Werner, to be a wonderful uncloaking device. When a patient is blocked, guarded or switched, a spray over the patient will uncover the priorities that need to be worked on. A great non-invasive way to create clarity."
~ Dr. Pieter Van Huehl, Integrated Holistic Healthcare

"The energy bursts out as I spray! I love them!"
"I absolutely love your spray, the energy bursts out as I spray. Good things are happening, and I love to spray everyday!"
~ Golda
"When Deborah remotely sprays me, I can instantly feel the energy shifting!"
"Deborah's flower essence sprays are wonderful for balancing my energy and for shifting the atmosphere in my home for me and my family.
I could feel the transmission of energy when she remotely sends the flower essences. It feels as powerful as using the sprays...What a wonderful gift! I can instantly feel the energy shifting in my body and the grounding, nourishing support!
Thank you, to Deborah, for sharing nature's bountiful gifts of flowers and their loving supporting energy! Her passion and gifts for attuning with nature are beautiful!"
~ Maureen M.
"These flower essence sprays are one of the most amazing products I have ever used!"
"I have used Deborah's open door and rainbow chakra sprays for some of the most amazing miracles. Deborah has a special ability to make a very special product that brings forth the hearts desires in beautiful ways. I highly recommend you try not only her Open Doors to Prosperity, but her entire line of different sprays.
I can't even describe the amount of peace and happiness she has brought into my life. I am so very thankful to find her. She is so generous in her mistings but just imagine having her actual sprays in your home it's simply amazing. It's opened some new levels of confidence, it's lessened fears and has given a whole lot of happiness all around."
~ Lisa
"I felt amazing and felt my energy vibrations high instantly"
"I did the sprays as per Deborah's recommendation today before my call as I was feeling a little heavy due to what's going on around us... after spraying the rainbow then open doors and miracle, I felt amazing and felt my energy vibrations high instantly... 😱"
~ Ning
DISCLAIMER: The information on this site is not intended or implied to be a substitute for professional medical advice, diagnosis or treatment. All content, including text, graphics, images and information, contained on or available through this website is for general information purposes only. Please see a medical professional if you need help with depression, illness, or have any concerns whatsoever.
WE DO NOT OFFER MEDICAL ADVICE, COURSE OF TREATMENT, DIAGNOSIS OR ANY OTHER OPINION on your conditions or treatment options. SERVICES OR PRODUCTS THAT YOU OBTAIN THROUGH THIS WEBSITE are for information purposes only and not offered as medical or psychological advice, guidance or treatment.
CONSUMER NOTICE: You should assume that From Heartache To Joy has an affiliate relationship and/or another material connection to the providers of goods and services mentioned on this page and may be compensated when you purchase from a provider. You should always perform due diligence before buying goods or services from anyone via the Internet or offline.
REFUND POLICY: Please know that in order to honor the Law Of Energy Exchange, all exchanges need to be fair energetically. We love and honor all of our valued listeners and speakers. We are happy to offer a hassle free, 30 day Money Back Guarantee to our customers to help them decide if a certain product works for them or not. However, in order to honor our speakers and their hard work we can only offer refund on one package for every customer per 90 days. Multiple refunds by same customer within 90 days will not be accepted. If speaker's offer involves personal sessions, then guarantee will be voided if the session has been availed. Additionally all refund requests should be sent within the 30 day guarantee period. We thank you in advance for respecting the energy exchange.
Copyright © 2020 - Eram Enterprises Inc - All Rights Reserved